Published in News
We find ourselves in a time of great uncertainty that demands a period of physical isolation, but that doesn't mean we and our ideas need to be isolated socially.
Like many event-focused organizations, TEDxCalgary (and many other TEDx teams worldwide, including TED itself) has been impacted by the physical isolation or distancing measures deemed so necesary to slow or stop the spread of Coronavirus/COVID-19 infections. We know that these are being referred to as "social distancing", and why that descriptor is being used by governments and health professionals, but we feel that the term creates the wrong mindset. Physical distancing is absolutely essential to flatten the curve of infections spreading and reduce pressures on health care systems. But how do we stay connected to one another in a time of isolation?
Fortunately, we know that we're not the only ones who think that way. Societal crises like these can be unifying moments, or they can tear us further apart. Globally, there is a chance for governments to coordinate efforts and collaborate in ways they haven't done for many years. At the same time, there also is very much a chance that the response turns into one of more profound divisiveness and isolation. We genuinely hope that the spirit of collaboration wins out, and that we emerge with a better sense that the world is far more connected than most people care to realize. Although alarming in a moment of pandemic, that very connectedness as a system should also encourge us to be more understanding of the world around us.
We were tickled to have the following cartoon from Sam Hester in The Sprawl shared with us today, by long-time collaborator Colin Jackson with Calgary on Purpose (a big shout-out!). Sam is an amazing graphic recorder who wonderfully captured our 2014 Wilderness event at the Calgary Zoo. The full comic is very much worth the read, but here's the panel that really resonated with us, explaining why PHYSICAL isolation/distancing is necessary, but SOCIAL isolation isn't desirable in a time of need: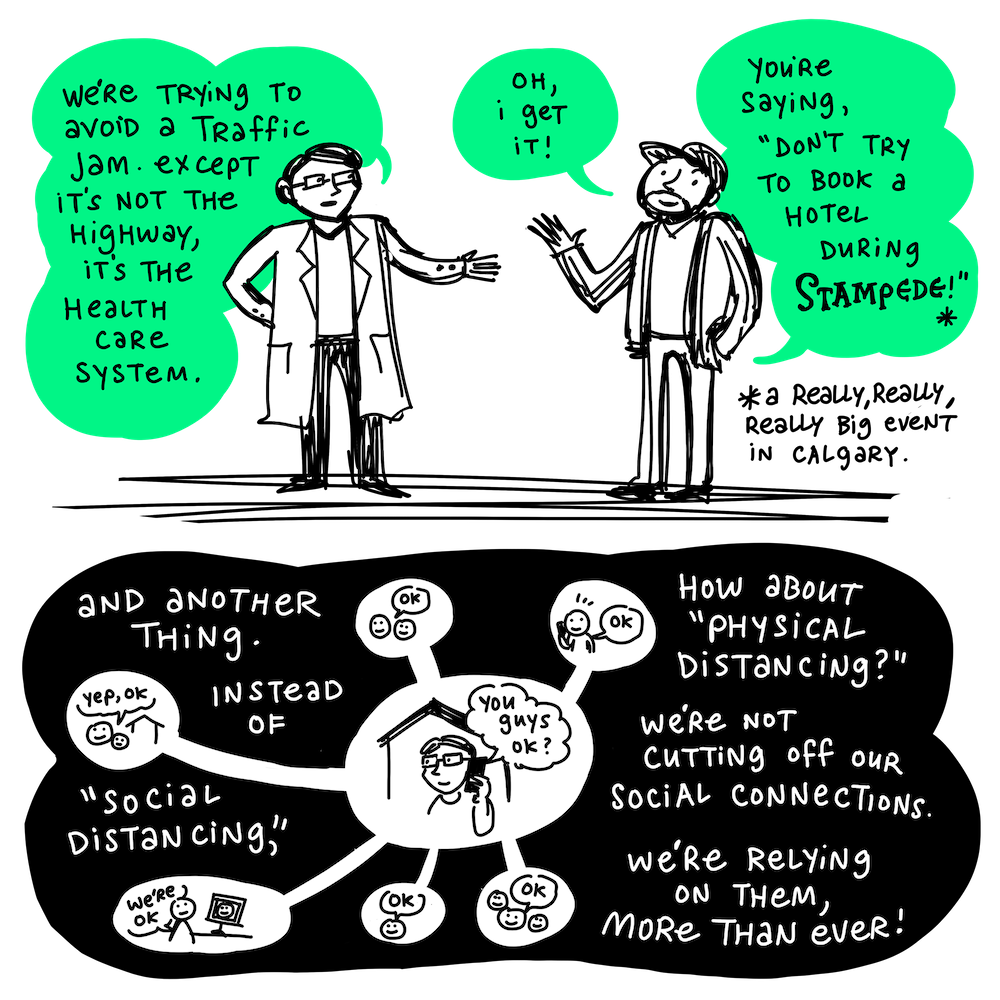 Image from The Sprawl Calgary, by Sam Hester
In making our own decision to postpone our planned March 28 ENGAGE: Deeply event to October 31st, we knew it was the right thing to do in the circumstances. All the evidence pointed to our event having higher risk factors given its very nature: people spending a prolonged period (up to 7 hours) in close proximity, sharing ideas face-to-face. That's actually the magic of our in-person events, and what was set to make ENGAGE: Deeply most special. It was intended to develop new connections among participants, and foster deep conversations. Our mastheard image for this story highlights the intimacy of those connections, and why our participants emerge with a different sense of connection. They don't just listen to the ideas of our speakers — they help create even more powerful ideas and stories together, by virtue of the connections they make in person.
Our revised event date gives us opportunity to make ENGAGE: Deeply (Take 2) even better, and more meaningful for the fact that it will occur after we (hopefully) emerge from the events and anxieties of today with new perspectives to share. In the meantime, we'll be hard at work trying to find ways to keep us connected and engaged socially with one another, and still sharing the ideas that matter more now than ever. Keep tuned as our amazing team of volunteers brainstorms on options!
-- Jonathan Perkins, Curator and Co-Founder
Read more...